Latest Tracks
0:00/3:43

0:00/4:42

0:00/4:10

0:00/14:57

0:00/2:56

0:00/2:59

0:00/2:29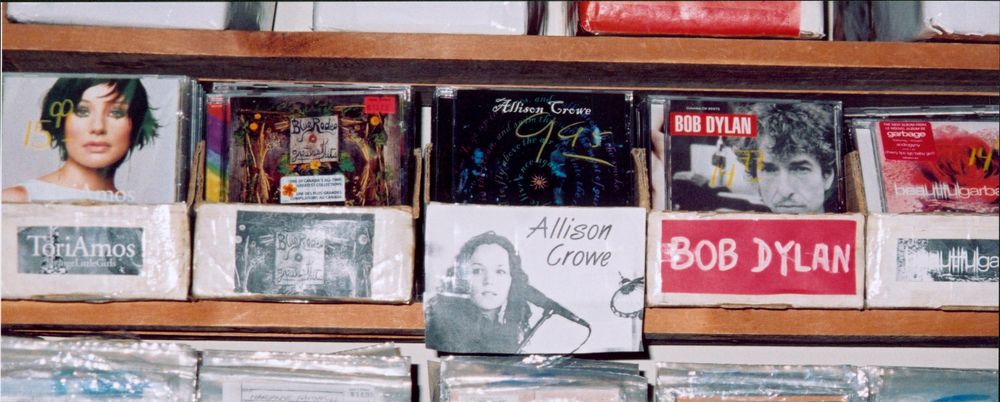 Richly diverse, "Songbook" is an oeuvre-spanning collection of 22 tracks representing each album release from Rubenesque Records' first decade: Lisa's Song+ 6 Songs (2001-3); Tidings (2003/4); Secrets (2004); Live at Wood Hall (2005); This Little Bird (2006); Little Light (2008); Spiral (2010); Arthur / Up to the Mountain (2011); and Tidings
Richly diverse, "Songbook" is an oeuvre-spanning collection of 22 tracks representing each album release from Rubenesque Records' first decade: Lisa's Song+ 6 Songs (2001-3); Tidings (2003/4); Secrets (2004); Live at Wood Hall (2005); This Little Bird (2006); Little Light (2008); Spiral (2010); Arthur / Up to the Mountain (2011); and Tidings Concert (2012) - plus music not released on any other album in this period.

It's a resonant set-list that includes songs of: love that's candid, "Wedding Song" ("I will never be the perfect wife / I don't even know what that is") and shadowed by age, "Arthur" ("Would you hold me / If I disappeared now / And if I didn't know / Who I was"); characters defiant, "Skeletons and Spirits" ("Take your sympathy and shove it"); and compassionate, as in "Whether I'm Wrong" featured by the UNESCO-endorsed New Songs for Peace ("Whether I'm wrong, or whether I'm right / It doesn't really matter anymore / You've put up a wall / We've put up a fight / And now it seems we've forgotten / What all that was for"). The epic "Disease" addresses such social issues as anorexia/bulimia, mental health, and celebrity culture ("I don't want to exist on this plane / crashing down to the level of / depth of skin / flesh and bone / all wrapped up in pages / flashed in our faces"). It's all delivered beautifully by an artist who can be, at once, gorgeously fierce and tender – as reflected in the signature "Secrets (That Aren't My Own)" ("I am not an angel / I'm more like Mona Lisa / there's something hiding in me / there's always something behind my smile").

Alongside her original songwriting, Allison Crowe is supremely renowned for her elemental covers. "One of the best interpreters to come along since Joe Cocker," says Bob Bishop, Editor of Paris Voice. "Songbook" samples her fresh takes on tunes from Phil Ochs, Annie Lennox, The Beatles, Cyndi Lauper and more.

"Allison Crowe is the best thing to happen to 'Me And Bobby McGee' since Janis Joplin changed Kristofferson's lyrics," blogs Allan Showalter of "Cohencentric", noted as "arguably the greatest living (Leonard) Cohen expert". Also here is an hugely-loved cover from her "Tidings" album – about which Semper Ubi Sub Ubi blog says: "Leonard Cohen's 'Hallelujah'... as performed by Allison Crowe, may be one of the most amazing things ever recorded onto magnetic tape."

This collection debuted in June 2013, coincident with the premiere of "Man of Steel", (the new Superman movie in which Allison appears in cameo), and it's globally released via the world of digital outlets on March 17, 2014.

"Songbook is, basically, a collection of songs, originals, and covers, of mine going all the way back to 2001 up until now! I think it's a great introduction to my music for anyone who has no idea who I am and has never heard of me, and for people who like to kind of have all the songs in one place!" Allison Crowe tells Steve Younis of 'Superman Homepage'.

Cover drawings by Allison Crowe, and design/artwork by Rubenesque's long-time graphics collaborator, Alix Whitmire.

Rubenesque Records - 'Taking the Road Less Traveled since 2001'.
Read more…
0:00/4:42

0:00/2:57

0:00/3:34

0:00/4:20

0:00/3:17

0:00/4:42

0:00/4:01

0:00/4:48

0:00/4:35

0:00/3:09

0:00/3:49

0:00/4:02

0:00/4:38

0:00/2:46

0:00/6:17

0:00/9:09

0:00/3:25

0:00/3:17

0:00/5:07

0:00/4:42

0:00/3:39

0:00/6:44