Allison Crowe ~ BIOGRAPHY (FULL)
"Soulful. Alive. Joyous. Grievous. Real, true, music is what I want to make," says Allison Crowe. 
"I love singing for people. It's a way to connect and share with others. Communication is crucial. Just being able to do what I do, to write and sing and perform, makes me feel not only alive, but incredibly lucky. Knowing at any moment everything could change, I don't take one second for granted." 
 "Allison sings with such an intensity of emotion, it's easy to see why she's often quoted as saying 'Why music? Why breathing?'," notes pioneering music blog Muruch. "That kind of artistic passion seems extremely rare these days." 
Born November 16, 1981 in Nanaimo, on Vancouver Island, BC, Allison's made her home in Corner Brook, NL. She's taken the road less-traveled to harmonizing life as musician (voice, piano, guitar, fiddle, bodhran & cello), composer, arranger, audio engineer & producer.
From the lovely isle of Newfoundland her reach is global. Millions of people enjoy her songs and music videos – on land, sea, and in the air – everywhere from an home-computer in the Gulf to a state ceremony in Tasmania. 
"Allison Crowe has a voice to fall in love with," says UK music industry journal Record of the Day, "descended from Scottish, Irish and Manx stock. She's exactly the sort of artist who can make serious headway on her own label and that's just what she's doing." Across the sea, Ray Padgett (Cover Me, SPIN, Mashable) observes: "There are some voices that speak (or sing) for themselves. You know the ones. Voices where it doesn't matter what they sing. Voices where it doesn't really matter what instruments support them. Solomon Burke has such a voice. Jeff Buckley had it. Allison Crowe has it too." 
"Expressing emotion is where Allison Crowe excels. Whether covering other artists... or performing her own songs... each track becomes alive and palpable," says Paris Voice. "The music is the woman," writes Erin Fletcher. "She communicates about love, death and life through her songs. Her voice is unmistakable, and in the same song she can be powerfully raw, yet hit a high note so delicately it slips through her lips and kisses your ear." 
Ani DiFranco and Loreena McKennitt inspired the strong-willed Scorpio to create her own label. Since 2001, mostly via Rubenesque Records, she's released 26 albums, singles, EPs and compilations creating an oeuvre – more than 200 unique tracks embracing roots, rock, Celtic, folk, jazz, soul, Canadiana and Broadway and bridging tradition with inventive exploration.   
Rubenesque's series of artistically and commercially successful releases includes: Lisa's Song+ 6 Songs (2001-3); Tidings (2003/4); Secrets (2004); Live at Wood Hall (2005); This Little Bird (2006); Little Light (2008); Spiral (2010); Arthur / Up to the Mountain (2011); Tidings Concert (2012); Newfoundland Vinyl (2013); Heavy Graces (2013); Songbook (2013/14); Souling (2014); Newfoundland Vinyl II (2014); Sylvan Hour (2015); Newfoundland Vinyl 3 (2015); Souling (Bonus Tracks Edition) (2015); Introducing / Heirs + Grievances (2016); Great Island Wonder (2017); Welcome to Us 1  & Welcome to Us 2 (2018); Newfoundland Vinyl IV (2018); single But Still (2019);  plus the newest releases from Allison and bandmates – Pillars (2020); and Six More Songs (2020).   
Broadcast highlights include a pair of one-hour television specials: "Allison Crowe: Inside Pandora's Box" and "Tidings" (airing, for years, nationally across Canada).  
Crowe performs solo and with bandmates – Sarah White (mandolin, guitar, vocals), Dave Baird (bass, vocals) & Keelan Purchase (accordion, harmonica, guitar, bodhran, vocals) – headlining concerts on hundreds of occasions in over a dozen countries.  
Billed before Carol Ann Duffy, Britain's Poet Laureate, and (the late) Sir Peter Maxwell Davies, Master of the Queen's Music, "Canadian angel Allison Crowe gave one of the weekend's most magical moments," relates The Scotsman. John Lennon Northern Lights Festival Director Mike Merritt recalls her "awesome" and "spine-tingling" performance "put hairs on the back of your neck! She brought the house down."  
"You really have to see Allison Crowe live. The way she splits those notes, it's like light through a prism – all the colours of a song." adds radio veteran Rick Dennis.  
In 2012, Allison Crowe thrilled on-stage with Canada's Royal Winnipeg Ballet singing and playing as part of the World Premiere run and subsequent tour of "The Doorway: Scenes from Leonard Cohen" –  contemporary dance from Jorden Morris with artistic direction from the RWB's André Lewis. Paired with Morris' "emotionally charged" choreography her "glorious sounds... filled the room" recounts The Chronicle Herald's Andrea Nemetz.  
Hollywood director Zack Snyder flew Crowe cross-continent from Corner Brook to cameo in "Man of Steel" – covering "Ring of Fire" on-screen in 2013's Superman blockbuster. "I'm a big Johnny Cash fan. And I'm a big Allison Crowe fan," reveals Snyder (Dawn of the Dead, 300, Watchmen, Sucker Punch+). "So the combination to me seemed like an awesome opportunity if we could make it happen."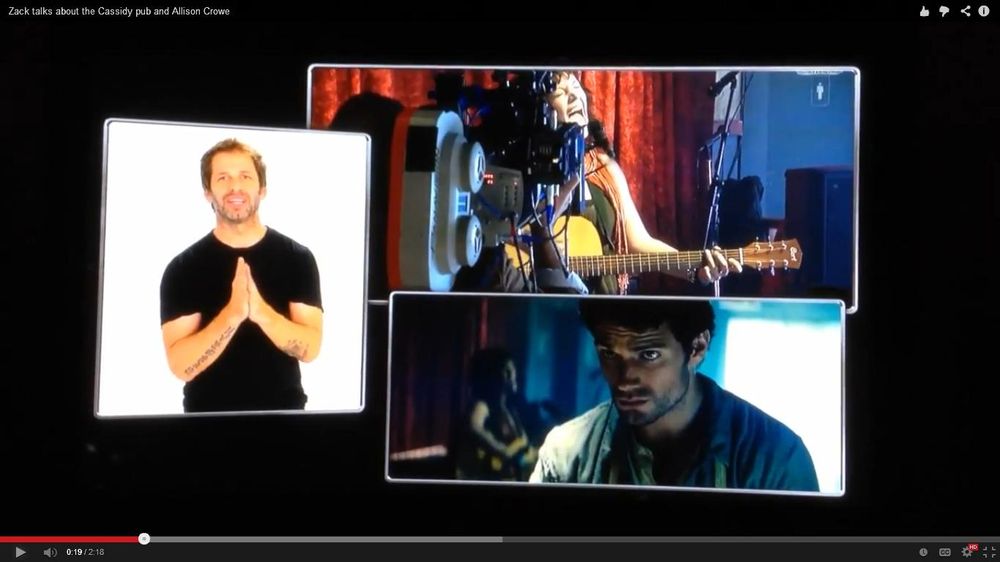 Coming full-circle, in 2021 Allison Crowe revisits, re-inhabits, Leonard Cohen's universal "Hallelujah" for "Zack Snyder's Justice League" movie. The song first brought Allison together with The Stone Quarry creative group at the time they're making the film "Watchmen". ("Hallelujah" being released on "Tidings" in 2003/4 and on video in 2005.). Allison notes: "I am so honoured and humbled to be a part of this, and to call this beautiful, loving, giant family my friends." The song and the film are dedicated to Autumn Snyder. 
As with her original, now classic, vocal / piano arrangement of the song, today's elegiac recording by Allison #ForAutumn is captured in a single, first, take – this time by Engineer/Producer Adam Thistle in Corner Brook, NL's Rotary Arts Centre theatre.  Tom Holkenborg (aka Junkie XL), musical maestro of "Zack Snyder's Justice League" celebrates the ZSJL soundtrack reaching "#1 on iTunes overall and over 1 million streams on Spotify" on its first day of release – March 18, 2021.
Viva Las Vegas!! Rising from the desert sands, a signature tune for Elvis, (penned by Doc Pomus & Mort Shuman), swings and roars back to life as soundtrack to the wild opening title sequence of "Army Of The Dead" – Hollywood auteur Zack Snyder's newest creation, a zombie heist+ spectacle set in Vegas. 
Allison Crowe joins movie music maven Richard Cheese (actor/musician Mark Jonathan Davis of Lounge Against the Machine) for a duet. Milan Records, (an imprint of Sony), releases the original motion picture soundtrack on May 21, 2021.
Crowe is Musical Director of "Newfoundland Vinyl" – a rollicking hit at the Gros Morne Theatre Festival each Summer (since 2012). Theatre Newfoundland and Labrador Artistic Director Jeff Pitcher, (who conceived the show), remarks: "No matter where Allison Crowe is in this world, that voice, that conviction, it crosses all borders. She's one of those rare artists that fits into any culture, any community because she is who she is - an incredible talent." Other productions for which Crowe's arranged and directed musically include a Bertolt Brecht / Kurt Weill revue and Pitcher's TNL adaptation of Dickens' "A Christmas Carol".    
"The first thing you notice about Allison Crowe is her voice. Rich and dark, it seems to come from a place most singers can only dream of accessing. Then there are the songs. Filled with raw passion and accompanied by Crowe's eloquent piano playing." Clodagh O'Connell (The Courier, Rolling Stone+) posits: "Elton John meets Edith Piaf".    
"Power-house intense" comments an European reviewer, "the energy of 'Disease' can easily provide electricity to a small country for a decade." This tune and Crowe's wildly exciting performances lead to her being likened to innovative Russian composer Modest Mussorgsky and famed German Liedermacher Konstantin Wecker. "Gänsehaut-Musik" (goose-bump music) Peter Baier calls it in Süddeutsche Zeitung.